Founded in 1900, SELECT, is both, the acknowledged voice of the electro-technical trade in Scotland, and the country's largest construction trade association.
Collectively, its nearly 1,250 member businesses have an annual turnover of around £1 billion, employing more than 15,000 skilled people and 3,500 apprentices.
SELECT also delivers training courses to more than 3,500 electricians each year and is committed to regulation of the industry for a safer Scotland.
As a result of regular dialogue with the communications leadership team at SELECT we have recorded a significant number of published media successes on a range of topics including showcasing best practice, highlighting success stories of members, the importance of apprenticeships, and the value of membership benefits.
In the recent past we have contributed consistently to SELECT's long-running campaign to persuade the Scottish Government to make the designation "electrician" recognised as a regulated profession. This has included social media assistance throughout the organisation's "Regulate" campaign, and video interviews with MD, Alan Wilson, and Jamie Halcro-Johnston MSP.
By helping to create a climate of opinion where over 40 elected members of all parties represented in the Scottish Parliament have recorded their support for SELECT's campaign, we are hopeful of a successful outcome in 2022.
Even more recently we have played a part in helping articulate to the media the views of Scotland's Construction Industry Coronavirus Forum (CICV) where SELECT has taken a leading role.
Here's a snippet of SELECT stories:
Testimonial
"We have worked with Blueprint for many years and enjoy an excellent partnership. They are responsive, proactive and extremely professional, and their ongoing support and hard work has helped keep our regulation campaign at the forefront of the construction industry's consciousness."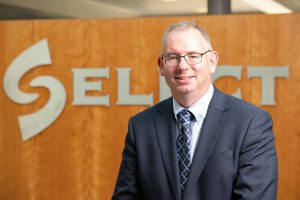 Alan Wilson, Managing Director, SELECT
Contact
W: www.select.org.uk
Twitter: https://twitter.com/updates_select
YouTube: https://www.youtube.com/channel/UCAmKLycLoo1k5GxngTsEP6g/videos