Neil Bradbrook is an expert in adaptive business strategy and managing change, whose career includes senior roles at General Electric, RBS, and Santander. He formed Ahead Business Consulting in January 2019 and delivers practical solutions to real-world business problems, helping leaders drive greater success through clear strategy, effective implementation, and greater engagement of their customers and staff.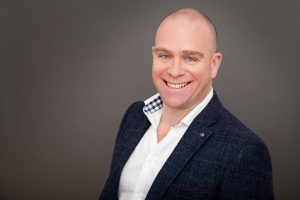 Neil Bradbrook, Managing Director, Ahead Business Consulting
In less than 45 words, give us an Elevator Pitch for your business. ​
Our purpose is helping businesses and organisations CHANGE FOR BETTER.
We do this by helping leaders to set, then implement, practical and pragmatic strategies.  We only recommend what is achievable, but we like to redefine what is possible by unlocking the power of their team.
What do you like the most about your job?  ​
I love the variety of working with lots of different clients with interesting and challenging real-world problems – but most of all, I get a real kick out of seeing the tangible difference we are able to make for them, helping them to improve their businesses and drive greater success.
What has been your best moment in business?  ​
I led the transformation of the Santander branch network.  The branches were in a terrible state before we started – bad for the customers, but even worse for the staff behind the scenes.  I was originally brought in to help them cut costs by closing duplicate branches (having bought Abbey National, Alliance & Leicester and Bradford & Bingley they had 2, 3 or even 4 branches in most towns), but I persuaded them that they needed to invest in the network to make their branches a welcoming place for customers and staff.  They bought into this and gave me £326m to make it happen.
What lessons have you learned that you would pass on to others?  ​
Ask and Listen.  Never think you know it all, and don't think you have to do it all on your own.  We all have different skills and strengths, so build a diverse team around you with different views to your own, and seek outside advice – not being in the business day-to-day always brings clarity and a different perspective.
Tell us about your first job and any unusual jobs you have had in the past? ​
I am a qualified hockey coach, and my first job was teaching hockey at my old school in Bolton.  I ended up coaching across a number of other sports too and as I had recently graduated with a French degree I also led some spoken French language lessons.
What do you hope the future hold for you and your business? ​
We want to be the most respected independent business consultancy in Scotland.
Away from work, what do you like to do?
Family first.  Cycling second.  I am a roadie and like nothing more than getting out into the beautiful Scottish countryside on my bike.
What's the last book / concert / Netflix series you most enjoyed? 
One of my guilty pleasures: I am a big Meatloaf fan, so took my wife to see "Bat out of Hell the Musical" whilst on tour in Glasgow (I may have also seen it in the West End once or twice before…).  My wife tolerates this behaviour (just).
Where is your happy place? ​
Out on my bike – ideally exploring new areas or discovering new hills!
If you could invite any three people, living or dead, to have dinner with, who would you choose?
As a big Liverpool fan I would have to invite Jurgen Klopp.  I think he is a breath of fresh air in football and an excellent leader – I often use him as an example of strong Leadership with our clients, so I would love to chew the fat with him.
Baroness Sayeeda Warsi.  Given I said to my wife last week if we had one of those "dinner party questions" I would invite her, I should probably stick to that!  Whilst I am not a fan of politicians in general, I am interested in better understanding how it works.  She combines  intelligence whilst still having her feet on the ground, is happy to poke fun at herself (and the rest!) and often is opposed to the rest of her party.  I would love to have an off-the-record conversation with her to understand more about politics from behind the scenes.
And my final pick is Tom Crean.  He is an unsung hero who was on both Scott's and Shackleton's expeditions, and demonstrated phenomenal resilience, endurance, and team spirit.  In our business we often cite the phrase: "What would Tom Crean do…?"