Blueprint Media worked with Andrew Bowman when his role was to promote all things business in Inverclyde. Today, he is founder and MD of ARB Growth, a company which delivers business growth for SMEs, and commercial property agency Bowman Rebecchi.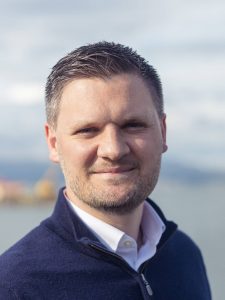 Andrew Bowman
Founder, ARB Growth
1. In less than 45 words, give us an Elevator Pitch for your business.
We deliver business growth for SMEs across a variety of disciplines including communications, strategy, PR, media, advertising, property and grants. We work with businesses to deliver their growth aims and ensure we are flexible to the business needs and budgets to ensure the best collaboration.
2. What do you like the most about your job?
The variety of challenges keeps it interesting, but ultimately it is the satisfaction of helping businesses to grow and achieve what they are striving to do, no matter how big or small. We work across all three sectors with our client base and have a unique perspective that clients find is of great benefit. One day we can be delivering a piece of strategic communications for important policy work to the Government and the next installing billboard advertisements for a small SME – it is that varied.
I am a Chair, Trustee and Director on several Boards as well, which empowers me to give something back locally to voluntary groups, the creative sector, businesses and young people, all of which I find really rewarding and helps me to learn.
3. What has been your best moment in business?
They have been different at each stage of my career, with different highs for different roles. I think the critical piece is that you know what you are trying to achieve and focus on how to deliver that. It was fantastic to merge our commercial property business with Marco Rebecchi's earlier this year to create Bowman Rebecchi, and I am enjoying the challenge of growing both businesses in tandem.
4. What lessons have you learned that you would pass on to others?
Not sure who said it, maybe Richard Branson, but the best advice I have is say yes to opportunities presented to you – even if they scare you. You have got to put yourself out there, and you will make mistakes, but it is the best way to grow and develop as an individual. Critical to everything is a work-life balance which can take some time to achieve, but once found makes life a lot easier, both for your support unit and you. People are much more likely to work with a can-do attitude, than something else.
5. Tell us about your first job and any unusual jobs you have had in the past?
I was the PA announcer at Greenock Morton Football Club for 3-4 seasons, one of many voluntary roles, including coaching I carried out for the Club when I was younger. I am looking forward to getting my kids involved on matchdays with the club once the season re-starts.
6. What do you hope the future hold for you and your business?
It has been a fantastic first year, and we have achieved everything we had aimed for in terms of turnover, profit, clients and growth. The recent Covid-19 pandemic has certainly slowed that down but we are beginning to see a sense of life pre-Covid returning, which enables us to plan again for this coming year.
7. Away from work, what do you like to do?
The simple things to help you chill and switch off – predominantly playing and having fun with my kids and family and catching all those jobs around the house and garden. I love my sports, particularly American and the NFL is probably my favourite currently given the competitiveness of it each season. I am a big Arsenal fan, and for the majority of my life have enjoyed great highs with the club.
8. What's the last book / concert / Netflix series you most enjoyed?
My wife and I motor through boxsets, but the best I've seen this year was Succession on Sky Atlantic – great to see a big budget series coming to Scotland also – a few more in Inverclyde would be nice.
9. Where is your happy place?
It may be sad, but I love my hometown and Inverclyde – I think moving away certainly helped me to appreciate it more. My wife and I try to get a kid-free break each year for a few nights and one of the best was Varenna on Lake Como, which was perfect and peaceful.
10. If you could invite any three people, living or dead, to have dinner with, who would you choose?
John F Kennedy – I have always been a huge JFK fan and was lucky to visit his memorial library. I enjoy reading his letters and views on the world, many of which are still relevant today.
Bill Belichick – Arguably the greatest coach in any sport, I would love to pick his brains.
Hugh Bowman – My father, who died when I was 10, so we have a lot of catching up to do.