Gordon Duncan leads insurance broker Lockton UK's corporate division in Scotland. A sometime Blueprint customer, he is responsible for the strategic, financial, operational and compliance performance of the business.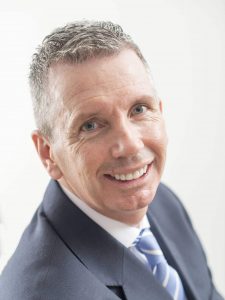 Gordon Duncan
Partner & Head of Corporate – Scotland
Lockton
1. In less than 45 words, give us an Elevator Pitch for your business.
Lockton design and implement knowledgeable and creative Risk & Insurance solutions to make our clients more successful. We are composed of people who demonstrate a passion for delivering unparalleled service in order to protect our client's balance sheets – 'Broking Done Differently'.
2. What do you like the most about your job?
Engaging with clients and prospective clients with a view to add value and business benefit to their organisation. The different types of characters and personalities you meet on a daily/regular basis always keeps the job varied and interesting.
3. What has been your best moment in business?
Leading Lockton Corporate Scotland for the past six years, and watching the business grow exponentially year-on-year by obtaining the trust of a number of successful Scottish businesses to administer all of their insurance requirements.
4. What lessons have you learned that you would pass on to others?
a) Respect, value, and nurture all client relationships.
b) Rectify your mistakes quickly, don't allow them to manifest and suck the life blood from your business.
c) Do not drop professional standards or integrity at any cost.
5. Tell us about your first job and any unusual jobs you've had in the past?
Many, many years ago during the school summer holidays I became a pallet maker. It was meant to last the whole summer, however, I lasted two weeks!
6. What do you hope the future hold for you and your business?
To build on the success we have enjoyed to date, and be the leading broker in our field. However, having turned 50 I now have one eye on retirement!
7. Away from work, what do you like to do?
I am a massive football and boxing fan. I still try and play football, but my knees keep arguing with me during and after each game. I also have two boys who are my world.
8. What's the last book / concert / Netflix series you most enjoyed?
• Book: Mike Tyson – Undisputed Truth
• Concert: Foo Fighters
• Netflix Series: Billions/Peaky Blinders – very difficult to separate in terms of what I enjoyed the most
9. Where is your happy place?
Florida; Dubai; or Italy – anywhere with sunshine, good food/wine/beer and relaxation.
10. If you could invite any three people, living or dead, to have dinner with, who would you choose?
1. Pamela Anderson
2. Michael Hutchence, Inxs
3. Steven Gerrard