Eric Curran as a partner of DM Hall, a long-term Blueprint Media customer. He was managing partner until January 2021 when his term came to an end. He is a well-known and influential authority in Residential Surveying practice in Scotland having been chair for several years of the Royal Institution of Chartered Surveyors (RICS) Residential Property Professional Group Board.
In 2018 we wrote an article for Eric about his '40 years under a floorboard' as a surveyor which offers great insight in what has changed over the years in his profession.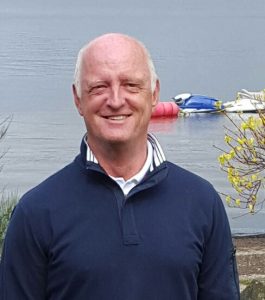 Eric Curran
Partner, DM Hall
1. In less than 45 words, give us an Elevator Pitch for your business.
Protecting your investment? Need questions answered? Know what to ask? Seeking unbiased, independent local knowledge? At DM Hall we will look after you, tell you what you want to hear and possibly things you may not wish to hear. An opinion worth having.
2. What do you like the most about your job?
The people and problem solving.
3. What has been your best moment in business?
If I am honest it is passing my exams to become a Chartered Surveyor but really just being part of a great team at DM Hall for my whole working life.
4. What lessons have you learned that you would pass on to others?
So many lessons but briefly; be true to yourself, empathy is important but independence is more important. Never stop learning, listen to others, remember to say thank you and give praise where praise is due.
5. Tell us about your first job and any unusual jobs you've had in the past?
My only full time job has been with DM Hall but when at school I sold carpets for Scotco at Parkhead Cross on a Saturday and when I was 17 yrs old I went to Holland for 7 weeks to pickle gherkins and pickles for a company called G J Schuller until my exam results were available. What happened in Holland stays in Holland!
6. What do you hope the future hold for you and your business?
The business future is bright because of the people in it and it will go from strength to strength as modern technology innovates how professional practice is delivered. I will watch with interest from the side lines because the retirement sirens are calling.
7. Away from work, what do you like to do?
Socialise, spend time with my fabulous family, eat, drink good wine, whisky and Gin and of course chase a white ball around a golf course and sometime curse at it as if the problem rest with the ball!
8. What's the last book / concert / Netflix series you most enjoyed?
Not a great reader or concert goer but in theatre land hard to get past The Jersey Boys, Les Miserable, Joseph and Blood Brothers. I tend to search out Sci Fi in Netflix.
9. Where is your happy place?
Home or Portugal.
10. If you could invite any three people, living or dead, to have dinner with, who would you choose?
Ghandi, Nelson Mandela and Tommy Cooper. I would need another place however for my long suffering wife.