John McDougall is highly talented businessman who has operated with great success both at the highest levels of the international corporate world, and as a high-achieving entrepreneur.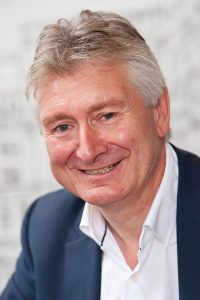 John McDougall
Serial entrepreneur
1. In less than 45 words, give us an Elevator Pitch for your business.
All the businesses that I am involved with help people at very significant times in their lives. This can be in overcoming mental health issues, finding appropriate sustained employment, benefitting from optimised NHS information workflows or simply having the wedding of their dreams.
I think I am in the fortunate position that I enjoy all that I do. However, this is not accidental – anything that I add to my portfolio needs to be of intrinsic interest to me. I am currently chair of four companies and vice-chair of another.
2. What has been your best moment in business?
I have had quite a long and varied career and during that time there have been lots of excellent moments in business… and, mind you, some not so good.
Back in the 1990s we won the government Department of Trade and Industry Best British Factory of the Year Award while I was M.D. of Honeywell at Newhouse. That was a great time for everyone at the plant and indeed for the community. Those were the halcyon days of Silicon Glen.
In 2002 when I was Vice President of Global Operations at Honeywell, I received the Global Leadership Excellence Award. That was obviously a good moment for me.
Ten years later I was fortunate enough to represent PSYBT when I won the Youth Business International Mentor of the Year Award which apparently had 15,000 entries worldwide.
Much more recently I was very proud to be appointed Honorary Professor (of Business) at Glasgow Caledonian University.
3. What lessons have you learned that you would pass on to others?
Listen and observe. Fully understand your customer needs and applications. Listen to the voice of the customer (VoC process) and develop solutions accordingly. Then market these solutions demonstrating clearly that they meet customer needs. Listen to your employees – actively gather and distil their ideas and feed them into action plans. Monitor competition all the time – products, prices, suppliers, people, reverse engineering etc.
4. Tell us about your first job and any unusual jobs you have had in the past?
While I was at university, I had the usual range of part time jobs as a postman, as a labourer…and as a gravedigger. On graduating from Glasgow University my first job was as a Systems Analyst with the British Steel Corporation. With business computer systems being in their infancy it was an ideal situation for young people in their twenties to quickly become the leaders. There were no older experienced "experts" in computer application systems at that time. The function was brand new in the seventies.
Much more recently – just a few years ago – as a consultant I was working simultaneously with five small businesses in the fashion sector.  My claims of being big in the fashion world provided an endless source of amusement to people who know me.
5. What do you hope the future hold for you and your business?
Crear Space to Create is already the number one international wedding business in Scotland but we want it to extend into wider "wedding tourism".
Safehinge Primera will extend its mental health built environment products into smart applications with sensors and AI .  We will also continue our growth in Europe and USA.
Voice Technologies' products with leading speech recognition and information workflow applications will significantly reduce NHS admin allowing clinicians to focus on clinical work.
Routes to Work will bring as many people as possible in North Lanarkshire into employment and help mitigate the current and upcoming economic turmoil caused by the Covid 19 pandemic.
6. Away from work, what do you like to do?
Cycling, hill walking, reading.  Italian food is a favourite too. As a lifelong St Mirren supporter I have had plenty of practice in wanting things to be better.
7. What's the last book / concert / Netflix series you most enjoyed?
When I was younger, I read a lot of fiction but in recent decades my interest is primarily non-fiction.
The last book that I read was "Hutton's Arse" (yes, that's the name!). It brings together many of the things that I really enjoy – the Highlands, history, geology, science, hill walking, the Scottish Enlightenment – all in one book. It is written by Malcom Rider and Peter Harrison in an easy to read style.
The next book I will read will be John Bolton's The Room Where it Happened. I look forward to reading it.
8. Where is your happy place?
The Big Strand in Islay (both the beach and the whisky).
9. If you could invite any three people, living or dead, to have dinner with, who would you choose?
My ultimate dinner party guests are an unusual threesome – one dead, one fictional, one alive and that's not all that makes them unusual.
I would choose the 1st Marquis of Montrose, Sidney Carton from Tale of Two Cities and Gabriel Batistuta. All three made huge sacrifices and were totally loyal to something beyond themselves. All then underachieved because of that loyalty – Montrose loyal to the losing side in the Wars of the Three Kingdoms, Sidney Carton to Lucie Manette and Charles Darnay, Batistuta to Fiorentina.
My two big questions would be: "Why did you do it?" and "Any regrets?"
I would be interested to see if there are any common themes that spanned the centuries and the vastly different contexts.