Graeme Harper founded and operates Harper Stairmand, a Dumfries-based corporate insurance broker "which gives a damn", for a range of corporate customers in the South of Scotland and North of England.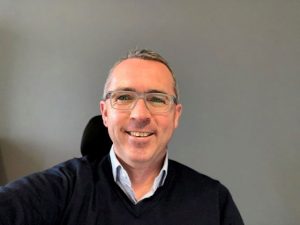 Graeme Harper
Director, Harper Stairmand
1. In less than 45 words, give us an Elevator Pitch for your business.
If you are looking for a broker who will fight tooth and nail for you and who Gives a damn, that's us!
2. What do you like the most about your job?
Meeting clients old and new and travelling the country.
3. What has been your best moment in business?
Striking the deal for funding to start my own business. First day of business sat in a cafe with a phone making some calls and picked up our first clients.
4. What lessons have you learned that you would pass on to others?
Learn from your mistakes, we all make them. Be true to yourself and don't let others try to change who you are.
5. Tell us about your first job and any unusual jobs you've had in the past?
Paperboy, loved walking around the town on the early summer mornings when no one else about.
6. What do you hope the future hold for you and your business?
Hoping to grow business and that it becomes a legacy business for my children.
7. Away from work, what do you like to do?
Going places with my family / Cycling / Music / Drinking coffee!
8. What's the last book / concert / Netflix series you most enjoyed?
The Border by Don Winslow / Nick Cave & The Bad Seeds / Evil Genius.
9. Where is your happy place?
Anywhere with my Family / Love the Florida Keys.
10. If you could invite any three people, living or dead, to have dinner with, who would you choose?
Bruce Springsteen, David Attenborough, Crazy Horse.