Russell Wardrop is CEO of Kissing with Confidence who specialise in delivering transformational skills and behaviours that allow businesses to grow. For example, Russell, an architect by profession and a top performer, is credited by Mace Construction, the leading London-based business, with helping it secure £175m worth of new business through honing its top team's pitching skills.
He was the main attraction at our pre-covid event and was a huge hit. You can read more about that event here.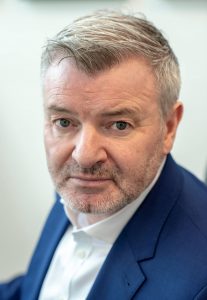 Russell Wardrop,
Chief Executive, Kissing with Confidence
1. In less than 45 words, give us an Elevator Pitch for your business.
We create rainmakers.  
2. What do you like the most about your job?
When I am on the stage or the Zoom Room, in front of an audience.
3. What has been your best moment in business?
Keeping everyone in a job after April last year.
4. What lessons have you learned that you would pass on to others?
Never be surprised by anything that happens; focus; enjoy every day, ain't one of 'em coming back.
5. Tell us about your first job and any unusual jobs you've had in the past?
Waiter, chef de range, The Pepper Pot, Eaglesham; shit shoveller for my dad's business; architect (one Devonshire Gardens).
6. What do you hope the future hold for you and your business?
We are now global, thanks to Covid.
7. Away from work, what do you like to do?
Make Fritatta with eggs from my six brown hens; watch The Chase while drinking Aldi cider and making dinner. 
8. What's the last book / concert / Netflix series you most enjoyed?
American Pastoral by Roth; Deacon Blue, Concert Hall; Time, by Jimmy McGovern.
9. Where is your happy place?
Inside my head.
10. If you could invite any three people, living or dead, to have dinner with, who would you choose?
My dad, my mum's dad, my uncle Gus (mum's brother).